I have been having so much fun seeing your fabric pulls. I am excited this is going to be a small and intimate quilt along but I can't wait to get to know you better and watch your quilt come together!
Don't forget if you are on Instagram please be sure to tag me @bretquiltdesigns in all of your posts and use the hashtag #pumpkinpatchedquilt. This will ensure your posts are entered in the weekly giveaways.
Quilt Along Schedule
Each Monday for the next 5 Mondays you will be receiving a weekly email prompt with the week's tasks and instructions.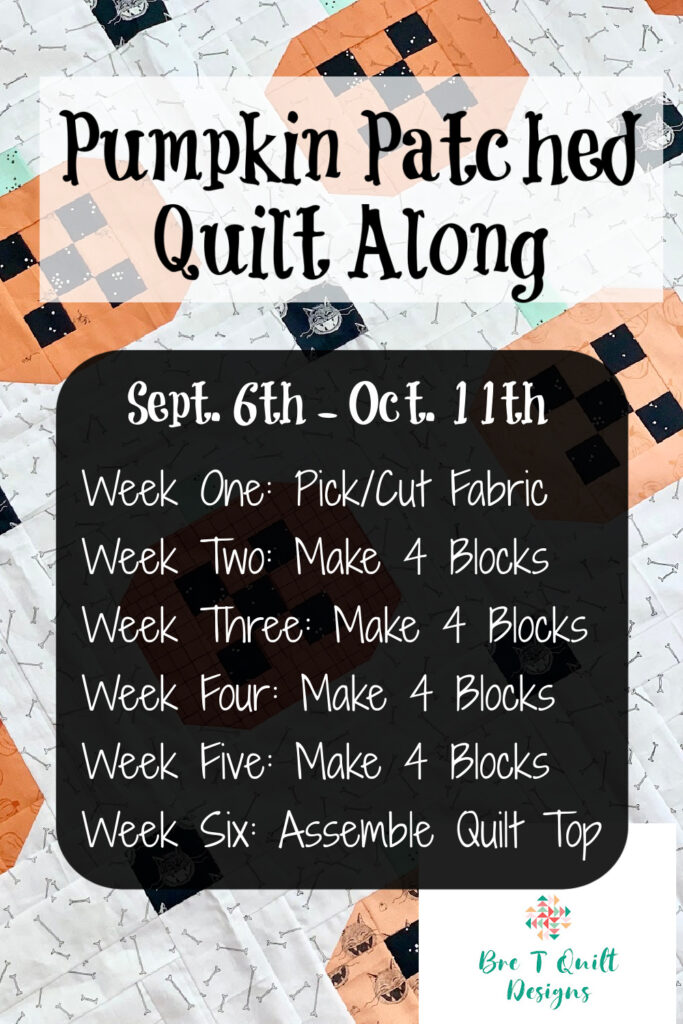 If you haven't picked up your pattern yet, you can do so here: Bre T Quilt Designs Shop
PIECING
This week we will begin to sew.
Be sure to start with a fresh needle!
Pro Tip* I fill 4-5 bobbins at a time. When they run out it's an easy reminder to clean my machine, change my needle, and fill another 4-5 bobbins.
It was brought to my attention that the pattern reads as needing a 1/2″ seam. This is incorrect and should read a 1/4″ seam. I'm sorry for any confusion this may have caused.
I highly recommend squaring up your block as you go. I know it seems like an easy step to skip but trimming blocks as you build on them is so important to accuracy at the end.
Important! Read Below!
Let's talk about step 6.
I just wanted to quickly touch on this step. Please read it and make sure you don't forget to do this one. It is so important and will save you from having to use your seam ripper.
There is not a diagram to mark this step.
This step gives you those perfect corners on your half-square rectangles.
I tried to simplify the half-square rectangles, but if you have any questions about them, reach out to me!
Here are my four blocks for week two!
Don't you just love this Spooky & Sweeter fabric? It is so fun to watch these blocks come together! I worked on these on the last day of my quilt retreat.
Seriously, I can't wait to see your blocks start popping up on my newsfeed so keep the posts coming!!
If you have any questions please reach out to me, I'd love to help!
Pumpkin Patched Quilt Along Info
Pumpkin Patched Quilt Along- Week 1
Pumpkin Patched Quilt Along- Week 2
Pumpkin Patched Quilt Along- Week 3
Pumpkin Patched Quilt Along- Week 4
Pumpkin Patched Quilt Along- Week 5
Pumpkin Patched Quilt Along- Week 6