Who doesn't love a good pumpkin quilt pattern?!?
If I had to pick one season to be my absolute favorite, Fall would win by leaps and bounds.
I love the colors, the cool nights, and all the fall decorations.
Of course, I LOVE pumpkins! I grew so many pumpkins in the garden this year my husband has been shaking his head at me. The last count was upwards of 100!
So what am I doing with all of those pumpkins?
I am taking quilt pictures of course, with my pumpkin quilt pattern- Pumpkin Patched!
Pumpkin Quilt Pattern
Pumpkin Patched is so much fun to make! I've made 5 so far to date. It features an adorable nine patch making up the center of the block giving the pumpkins jack o lantern features.
I love a good nine-patch and the blocks work up so quickly, each with their own fun personality.
The hardest part of this pattern is the half-square rectangle. However, I walk you through it with such great instructions and graphics that you'll have them mastered in no time!
Who doesn't love learning new techniques!?!
Fabric
This quilt was made using @JediCraftGirls Scaredy Cat fabric line. I used a fat quarter bundle and have tons of scraps left over to play with. I fell in love with the adorable cats, they were so much fun to fussy cut for the sashing center blocks and that bone blender is just too perfect!
Quilting
This pumpkin patched quilt was custom quilted by @kellyannquilts. She really has a way of bringing them to life. I love her work. I'm so grateful I have such a talented quilter friend!
Pumpkin Quilt Pattern Binding & Backing
You can't go wrong with a good striped binding. I always keep a few yards of black stripes on hand for quilts like this. It goes so well with this fabric and gives a nice defined outline.
I used a super cozy mammoth flannel by Robert Kauffman for the backing. You can't have a fall quilt without a cozy backing to snuggle under. If you haven't tried mammoth flannel I highly recommend it!
Alternative Sashing Options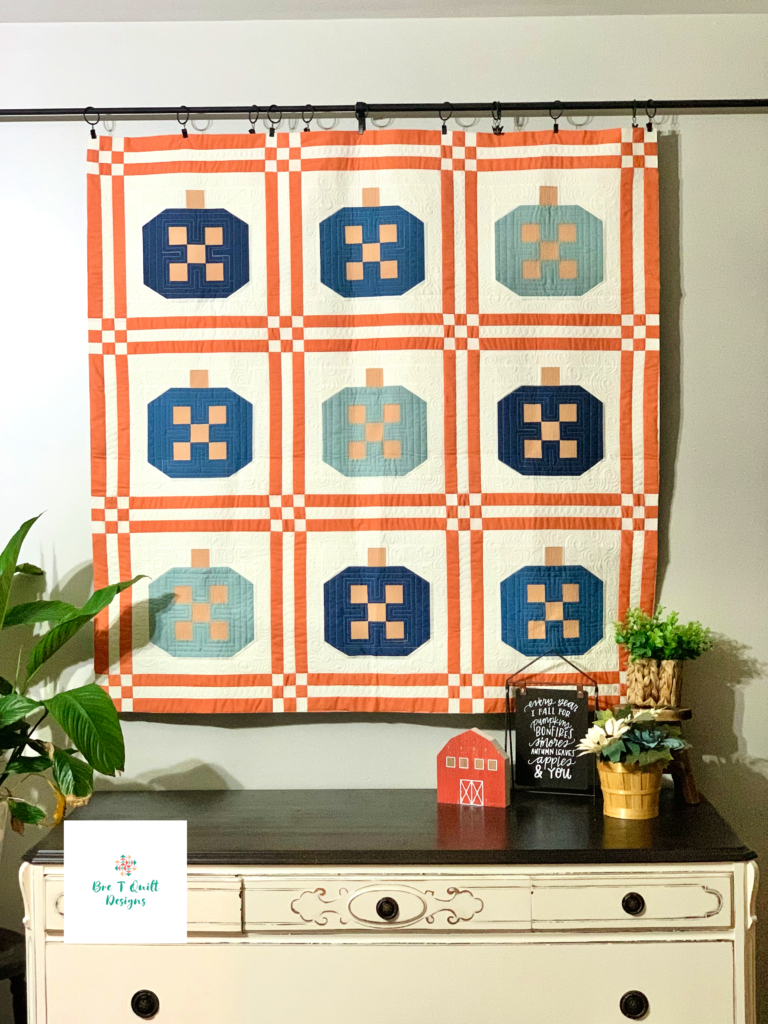 As I've made this pattern year after year I've also switched it up a little. I loved the new sashing I tried so much that I offer it as a free pattern upgrade that you can find in my resource library.
Along with the alternative sashing, you can also find an add-on for a free table runner pattern. You can sign up for access to my resource library by clicking the button below. Or read more about them here.