Welcome to week one of the Pumpkin Patched quilt along!
I am so glad you are here and can't wait to sew with you!
Here in Indiana, we are fortunate enough to experience all four seasons and I have to say fall is my very very favorite of them all!
I am so excited to do some sewing with you!
Before we get started if you are on Instagram please be sure to tag me @bretquiltdesigns in all of your posts (to do this, click "tag me" right below where you type in your caption on your post, tap the photo anywhere and search my name) and use the hashtag #pumpkinpatchedquilt in your caption, this will ensure your posts are entered in the weekly giveaways.
For those of you who would rather use Facebook, I have a group to share your progress in.
Pumpkin Patched Quilt Along Schedule
Each Monday for the next 5 Mondays you will be receiving a weekly email prompt with the week's tasks and instructions.
If you haven't picked up your pattern yet, you can do so here: Bre T Quilt Designs Shop
Now onto the fun stuff!
Pumpkin Patched Quilt Along Fabric Pulls
Just because pumpkins are traditionally orange, doesn't mean yours have to be!
Here are a few traditional and non-traditional Pumpkin Patched quilts to give you some inspiration.
Sashing & Background The Same
This quilt was made using Riley Blakes Scaredy Cat fabric line. It's adorable!
I used the same fabric for my sashing as I did for my background causing those pumpkins to really pop. The mammoth flannel backing & striped binding really finished this quilt off.
Low Volume Pumpkins
This Pumpkin Patched quilt was made by Angie over at Kay Marie Quilt Company. She was a pattern tester for me. She used her stash to create this low-volume quilt. Now it works for the entire fall season!
Ghost Pumpkins
My friend Marilyn dug into her civil war fabrics and came up with this fun quilt. She reversed her colors to make ghost pumpkins! I really love the striped sashing!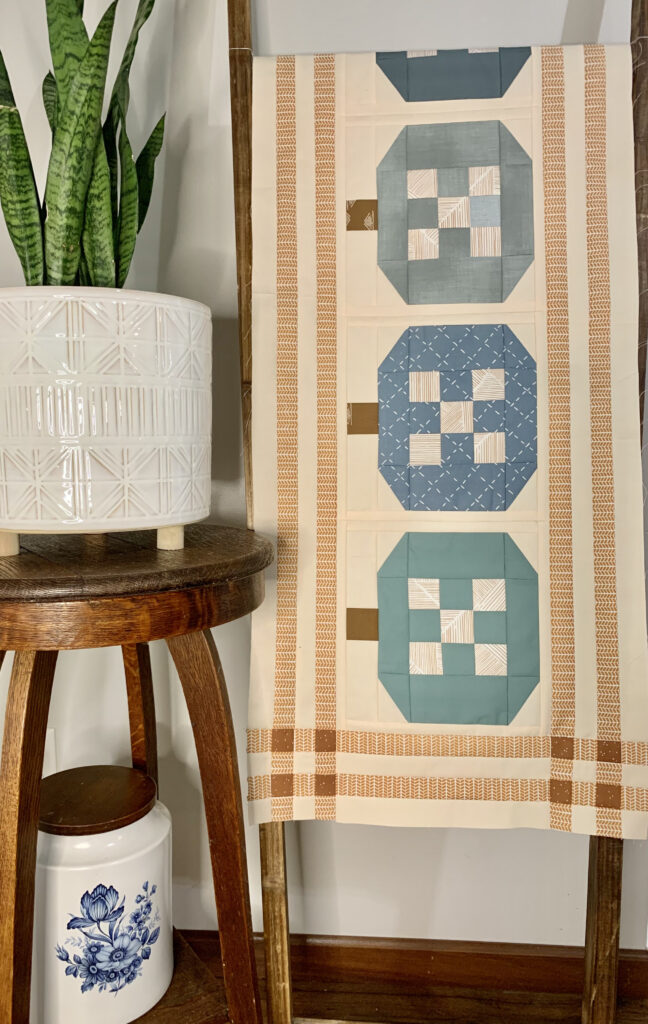 Blue Pumpkins!
This table runner is a free pattern I will be sending out to you during this quilt along! I am working on the finishing touches now.
I thought it would be fun to experiment with non-traditional colors. These blue pumpkins turned out so adorable that I plan on making a baby-sized quilt out of them to use as a Fall wall hanging!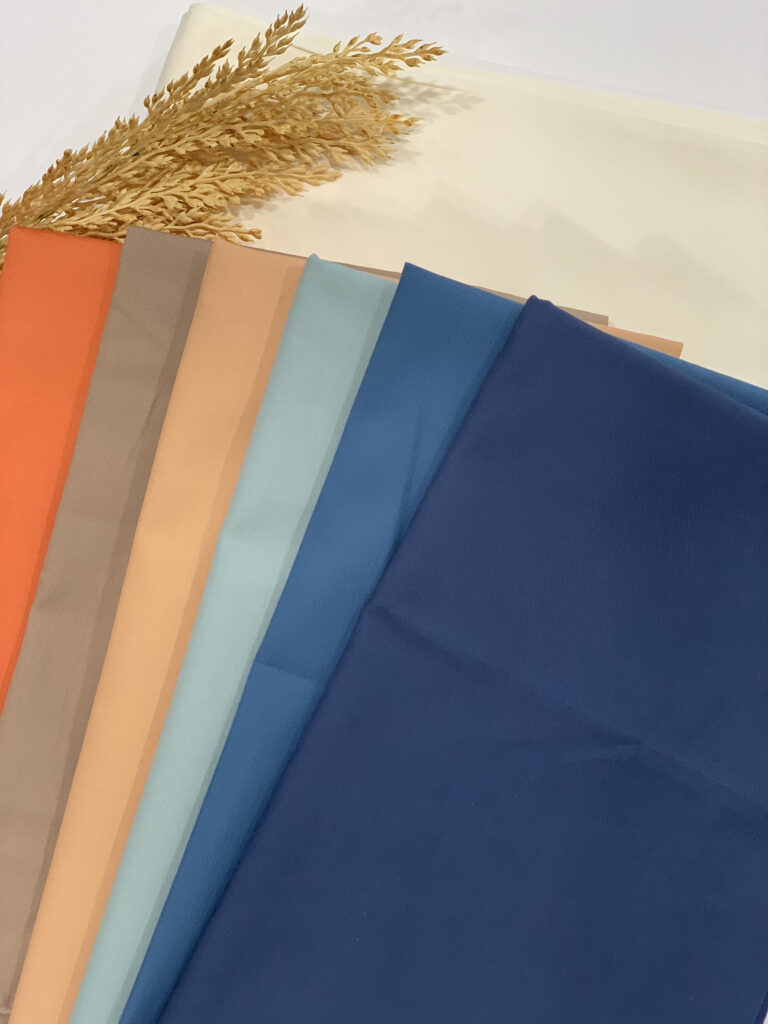 All Solids!
Can you believe I am going to try and keep up with two quilts during this Pumpkin Patched quilt along?!?
The kids are back in school now so I have faith that this is totally doable.
My first Pumpkin Patched quilt version is the one I mentioned above. I'm using all Art Gallery solids (this will be my FIRST all solids quilt!) and am making it baby-sized (3×3) with blue pumpkins to hang on my wall in the dining room.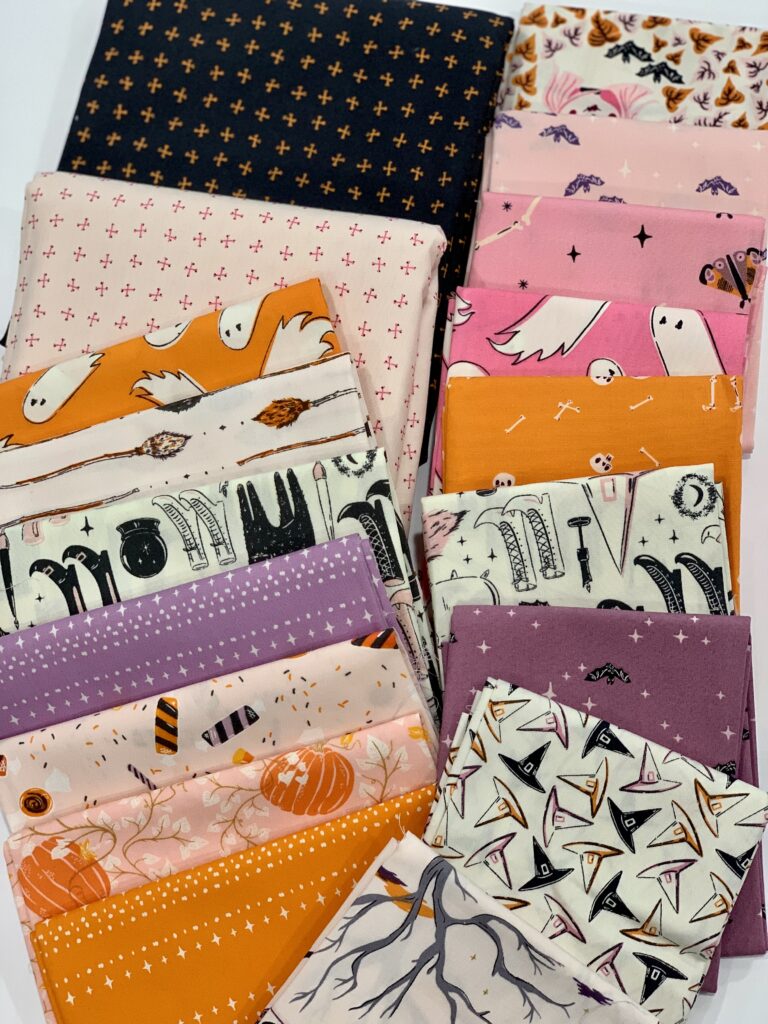 Spooky & Sweeter!
In the second version, I am making a throw-sized using the fabric I have from last year and this year's Spooky & Sweeter lines.
I am going to do each pumpkin in a different fabric which is not explained in the pattern. If this is something you want to do and need help with, send me an email and I would be happy to help you out with the math!
Cutting
This week we will also be completing our cutting.

You can cut all of your blocks upfront or cut as you go.

I prefer to just get it done, so I can sew as I have time. If that's your jam, use this first week to get that done.

There are two sets of cutting instructions depending on what size of quilt you are making. The instructions for precuts each have a diagram to help you out.
General Cutting Tips
If you can't remember the last time you've changed your rotary blade, go ahead and do that now.
Take your time. Accurate cutting is an important step!
I always iron my fat quarters before cutting to help with accuracy.
Here is a blog post with my favorite quilting tools if you are wondering what I use to keep my cutting and quilting as easy as possible.
Week One Pumpkin Patched Quilt Giveaway is sponsored by Plain Janes & Co.
Plain Janes & Co was generous enough to donate a $45 gift card to their online quilt shop. They were one of my wonderful pattern testers and are offering this baby-sized quilt kit over in their shop.
In order to be entered make sure you are following her on Instagram @plainjanesandco. Share a photo or reel of your fabric pull or cut pieces (or both!) using the hashtags #pumpkinpatchedquilt and tag me @bretquiltdesigns in your post!
One lucky winner will be randomly selected and announced in next week's email!
*Note your profile must be set to public for us to see your entry! The contest ends Sept. 12th, 2021
Alright, that's all I've got for you this week. Feel free to reach out to me with any questions, I'd love to help you out! I can't wait to see your progress and sew along with you! Have a great week, happy sewing!!
Pumpkin Patched Quilt Along Info
Pumpkin Patched Quilt Along- Week 1
Pumpkin Patched Quilt Along- Week 2
Pumpkin Patched Quilt Along- Week 3
Pumpkin Patched Quilt Along- Week 4
Pumpkin Patched Quilt Along- Week 5
Pumpkin Patched Quilt Along- Week 6