Who is up for a Pumpkin Patched Quilt Along? I don't know about you but I am so excited to start some fall sewing. The nights here have been cooling off and I am just itching to break out my oversized sweaters and fall decorations. My husband has, unfortunately, said it is way too early to break out the decor so the fall vibes will have to stay in my quilting room for now.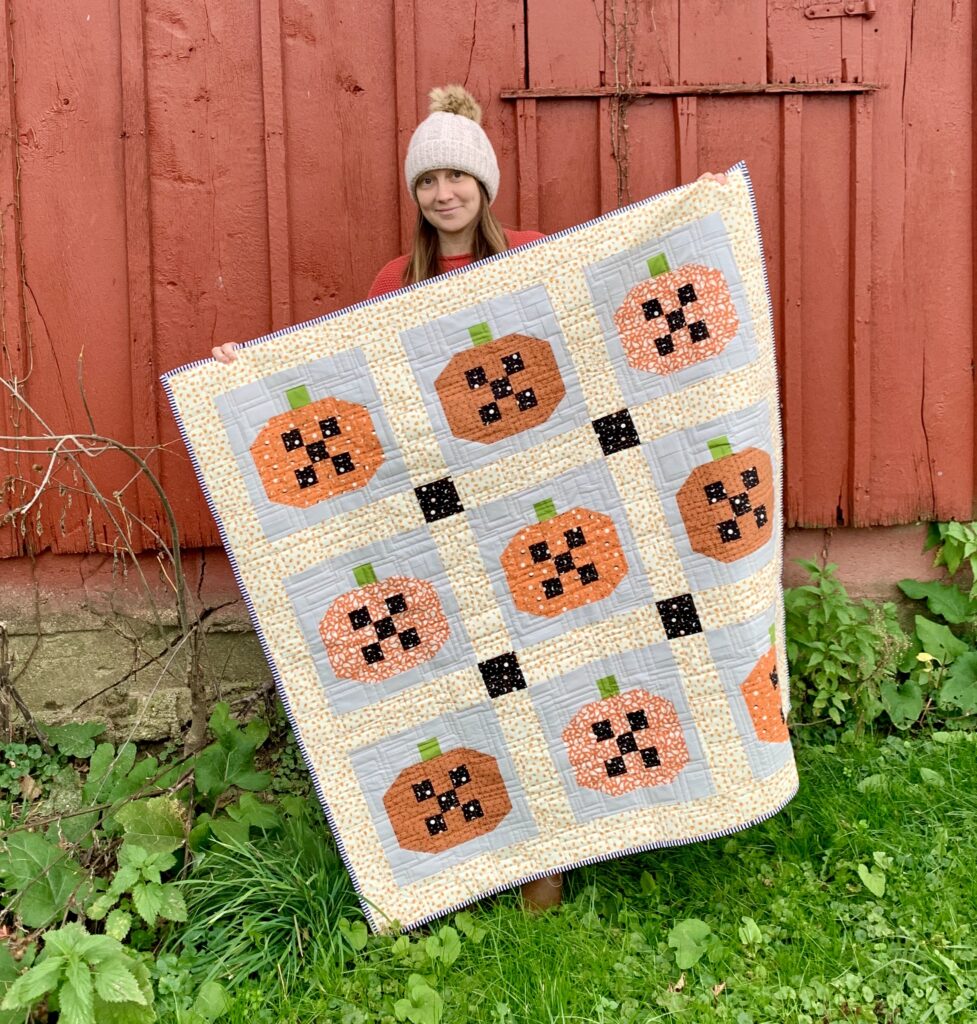 My Pumpkin Patched pattern is the second pattern I ever released! I recently gave it a facelift and had some tech editing done and it is now better than ever. I just adore making those nine-patch pumpkins and my pattern testers agreed! It was a scream to quilt up! (see what I did there?) Check out the hashtag #pumpkinpatchedquilt to see all of the versions!
Pumpkin Patched Quilt Along Time Line
The Pumpkin Patched quilt along will begin September 6th, 2021, and will go for 6 weeks. This will get your top finished up a few weeks before Halloween!
Pumpkin Patched Week Six
Pumpkin Patched Quilt Along Material Requirements
The instructions are written up for two different sizes. The baby size would make the perfect wall hanging and the throw size is just right for cuddling up under while you rewatch your favorite scary movies.
The best part about this is if Halloween isn't your jam, with a few color changes this quilt is perfect for fall decor. Check out Angie's quilt over at @kaymariequiltco she made last year in neutrals. It is one of my favorite versions!
My friend @dm_Carlson used Moda Grunge to make ghost pumpkins. I just adore her green sashing!
Most recently, I used Riley Blakes Scaredy Cat line to make a version where all of the sashing and background were the same. I really love all of the negative space! And those cats!
If you want to join in you can sign up for the quilt along here!
If you need a copy of the pattern I have PDF Patterns Available.
About The Quilt Along
Every Monday morning you will receive an email in your inbox giving you instructions, pointers, and encouragement for that week's tasks.
You can also join in on Instagram by posting your progress and using the hashtags #pumpkinpatchedquilt and #pumpkinpatchedqal.
If Facebook is more your speed you can join my private Facebook group Bre T Quilt Patterns and share your progress there!
I can not wait to sew along with you!!