Have you ever made a pattern that had a million half-square triangles and wondered if there was a faster way? Let me introduce you to my magic 8 half square triangle chart!
Does it sound crazy complicated if I tell you, you can make eight (EIGHT!) half-square triangles at once?!?
Believe it or not, it is so simple, and to make it even easier I created a magic 8 half square triangle chart, with not only cutting sizes but a quick tutorial/reminder on how to use this method.
It is the perfect resource for keeping handy in your sewing room, so of course, I made it into a free printable PDF that is so simple to download and print out.
Magic 8 Half Square Triangle Chart
To get your hands on this awesome magic 8 half square triangle chart, you need to gain access to my quilt resource library. You can do this by signing up for my newsletter.
Not only will you be able to download this chart, but you will also gain access to free patterns and other resources such as this patchwork pattern or this quilt retreat checklist. This library is quickly growing! Be sure to check your email after signing up for the password.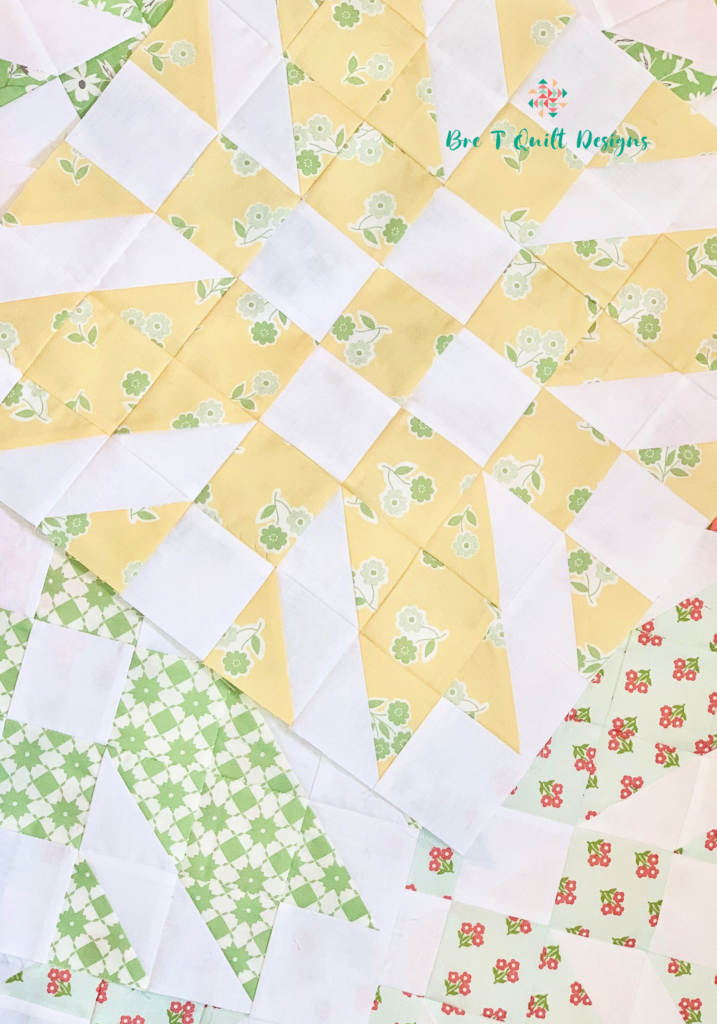 Let's talk a little more about half-square triangles. You either love them or you hate them, am I right?
My Adelyn Kay Quilt Pattern is one of those patterns that takes a crazy amount of half-square triangles. I'm almost embarrassed to admit it takes 24 half-square triangles per block!
Let me tell you it is worth every single one of them! This magic 8 half square triangle chart will help you knock all of those out in no time!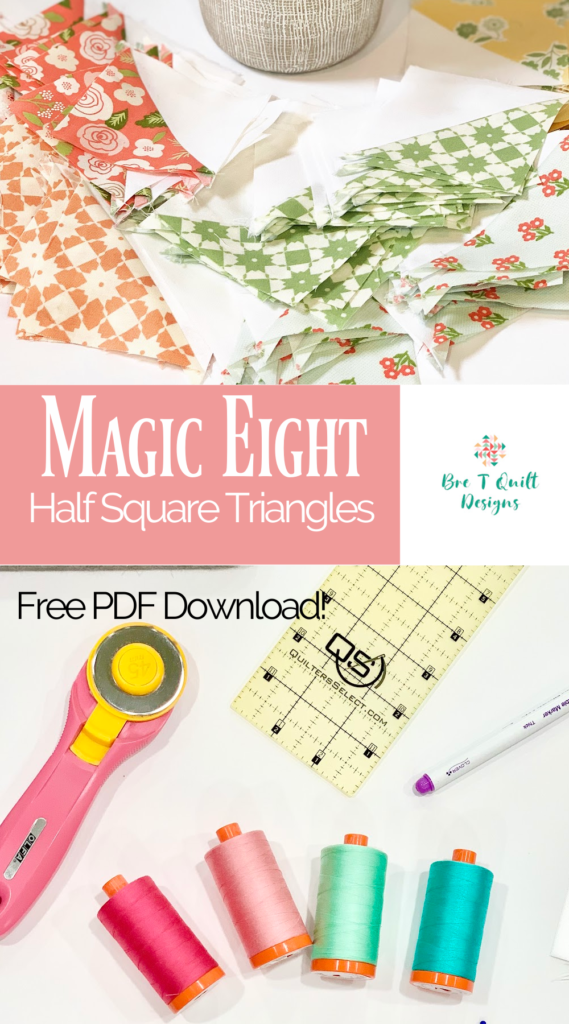 Trimming Half-Square Triangles
Trimming half-square triangles is another story! I despise trimming, but thankfully there are wonderful tools out there to make the job a bit faster.
There are two specialty rulers I have tried and would highly recommend either of them!
Bloc Loc Ruler– If I had to pick one, the Bloc Loc would be my favorite ruler for trimming half-square triangles. After pressing open your half-square triangles, the diagonal line "locks in" and holds your block in place so you can quickly and accurately trim and spin your blocks. It really speeds up the process and makes for very accurately sized half square triangles. The only downside is each size needs its own ruler and can get pricey. I bought this three-pack, but use my 2.5″ bloc loc the most.
Clearly Perfect Slotted Trimmers– This ruler comes in a close second. It is definitely the fastest way to trim half-square triangles (I timed myself haha!). Before pressing your blocks open, this ruler lines up on your sewn seam and guides you where to trim and clip corners. It is made for multiple sizes, making it a great deal for the price! When you press open your block is then done and ready to go! It took a bit of getting used to and I would highly recommend wearing a cutting glove, but if you're in a hurry, this is the ruler for you! The only downside to this ruler is it is a bit less accurate. Because it doesn't lock into place, if the ruler slips as they tend to do, your block may not be exactly 2.5″.
A few other supplies I recommend for making half-square triangles:
I hope this post has you feeling ready to tackle those half-square triangles! If you have any tools or tricks I'd love to hear about them. Be sure to leave a comment below.
Happy Sewing!