I am so excited to share my newest design with you! The much anticipated Floral Hall quilt pattern! This quilt pattern is great for advanced beginners. It teaches new techniques with easy-to-follow steps and diagrams.
Quilt Size Options
This quilt pattern is written for three different sizes. The sizes included in the pattern are:
Baby/crib size measures 48″ x 48″
Throw size measures 64″ x 64″
Queen-size measures 96″ x 96″
The Midnight In The Garden quilt featured in this post is a throw-sized quilt.
Moda Fabric Pull
The star of this quilt is the lovely fabric line distributed by Moda and designed by Jackie at Sweetfire Road. She reached out to me last fall asking if I would like to work on a project using her newest line, Midnight In The Garden. There is no way I could say no!
The gorgeous florals, apples, and honey bees made my heart so happy!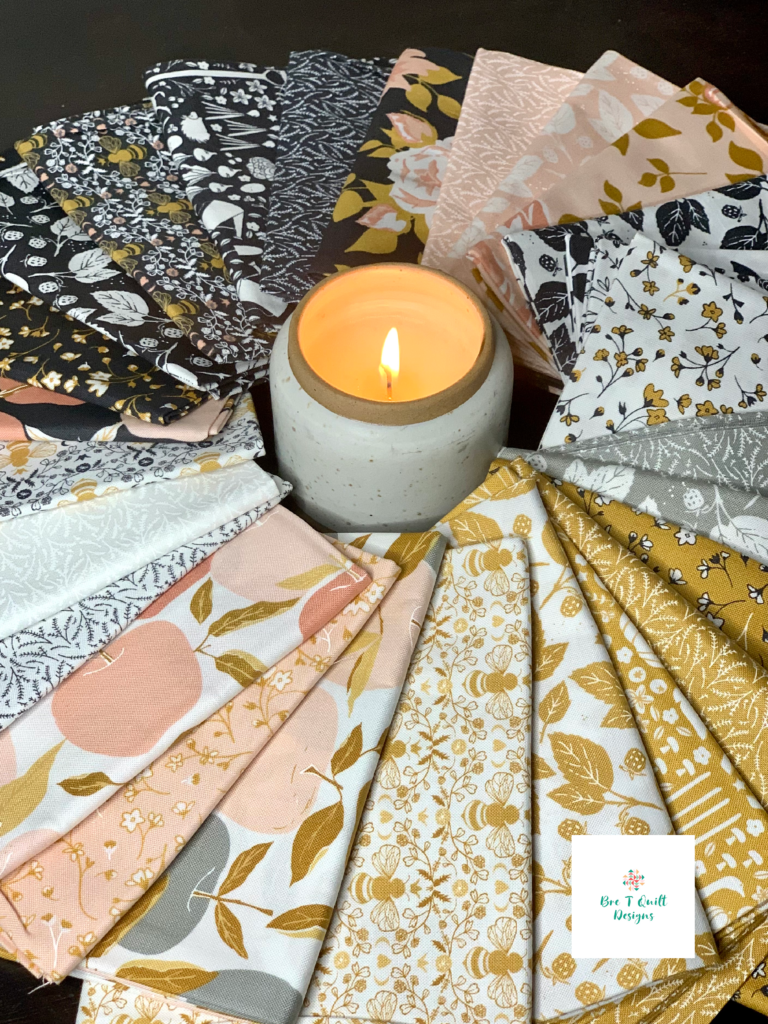 I made this scrappy using a fat eighth bundle of Midnight in the garden plus a bit of yardage from the line for the background and sashing.
It turned out absolutely magical! If you would like to make your own here is your material list.
1 Midnight In The Garden Fat Eighth Bundle
1.5 yards of Pocket Full Of Posies Gold 43123 12– Sashing
2.25 yards of Herb Garden Mist White 43126 21– Background
.75 yards of Garden Pocket Full of Posies Charcoal 43123 13 – Binding
Floral Hall Quilt Pattern
This pattern is great for advanced beginners to intermediate quilters. The pattern teaches two techniques, the magic eight method for half-square triangles, and the partial seam method.
Using easy-to-follow diagrams and written instructions I walk you through how to piece together these gorgeous floral quilt blocks.
As always my patterns include cutting diagrams, pressing instructions, and lots and lots of pictures to follow!
Quilt Backing
I just adored the sweet little apples in this fabric line and chose to line by backing with those.
I love using large printed fabric as a quilt backing and these apples were just perfect for the job.
My friend Kelly over at Kelly Ann Quilts did the gorgeous custom quilting on this one.
I then machine stitched the binding on using the charcoal florals for a dark pop of color around the edge.
Floral Hall History
I named this quilt after the historic Floral Hall located on my local county fairgrounds.
This building has been around for 138 years and has survived two fires!
Every year for the last three years I have volunteered to help clean and set up for our local county fair. My kids always show animals they have raised and I enter a quilt or two for judging down in the floral hall.
They also accept antiques, preserves, baked goods, vegetables, crafts, and more. I adore the history of the Floral Hall and am so honored to recognize a quilt in its honor.
Floral Hall Quilt Pattern Release Date
The Floral Hall quilt pattern will be available for purchase May 4th.
It will be available in paper or pdf version.
You will find it listed in my pattern shop: www.bretquiltdesignsshop.com.
To be notified of its release and of future pattern releases sign up for my newsletter here.