Have you been on the hunt for the perfect flower quilt pattern??
I am so excited to share my newest design with you!
The much anticipated Floral Hall quilt pattern!
This quilt pattern is great for advanced beginners. It teaches new techniques with easy-to-follow steps and diagrams.
Flower Quilt Pattern Size Options
This quilt pattern is written for three different sizes. The sizes included in the pattern are:
Baby/crib size measures 48″ x 48″
Throw size measures 64″ x 64″
Queen-size measures 96″ x 96″
The scrappy Art Gallery Fabrics quilt featured in this post is a throw-sized quilt.
Scrappy Fabric Pull
This was my very first version, so I decided to pull fabrics from my scrap bin for my initial test version.
I dug through my gorgeous Art Gallery scraps and pulled out my favorite blues, golds, and neutrals. They ended up working so well together.
Scrappy quilts make my heart so happy!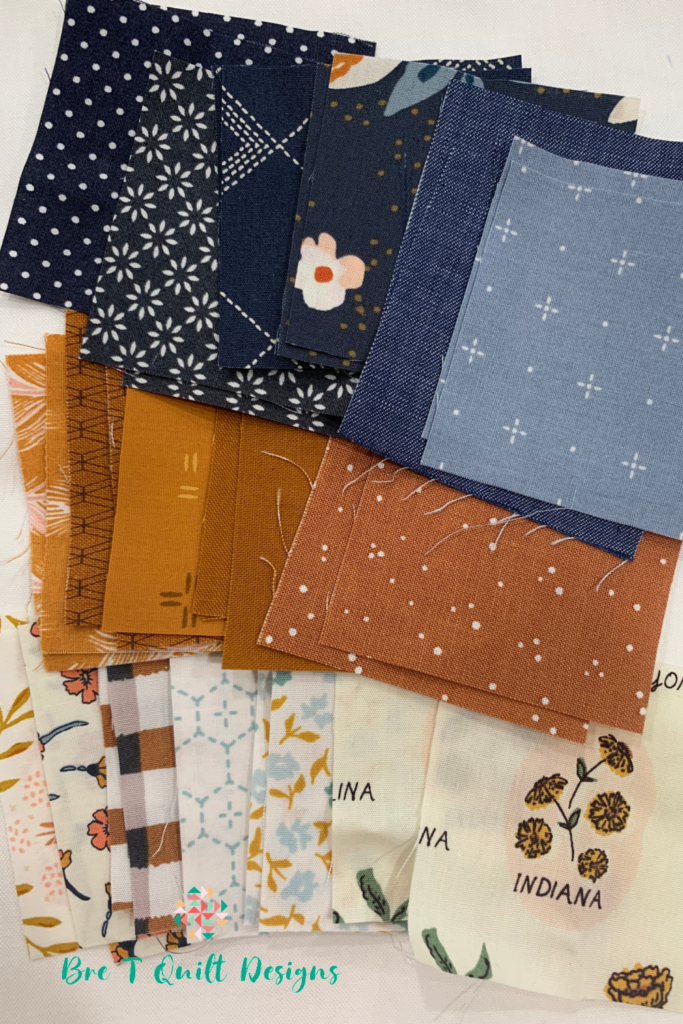 I ended up writing the pattern for fat quarters, fat eighths, and yardage. However, using the cutting diagrams you can easily figure out how to make your own scrappy version.
Floral Hall Flower Quilt Pattern
This pattern is great for advanced beginners to intermediate quilters. The pattern teaches two techniques, the magic eight method for half-square triangles, and the partial seam method.
Using easy-to-follow diagrams and written instructions I walk you through how to piece together these gorgeous floral quilt blocks.
As always my patterns include cutting diagrams, pressing instructions, and lots and lots of pictures to follow!
Quilt Sashing
I chose to step out of the ordinary on this quilt and used a partial seam method to sash the quilt blocks. If you use a striped fabric this creates an awesome criss-cross effect where the corners meet.
If you decide to sash in a nonstriped sashing you are free to sash the blocks in a more traditional manner as the effects won't be as pronounced. You can even choose to leave the sashing out altogether and will still end with an awesome quilt top.
But if you want to be brave, pick out a coordinating striped fabric and follow the pattern instructions to learn a new quilting technique and sash your blocks in a creative way!
Quilt Backing
I wanted something cozy for this quilt and decided to use a snuggle flannel from Joanns that I felt coordinated well.
I love using large printed fabric as a quilt backing and the softer the quilt backing, the more likely I'll find one of my kids cuddled under them.
My friend Kelly over at Kelly Ann Quilts did the gorgeous custom quilting on this one.
I then machine stitched the binding on using a dark navy for a pop of color around the edge.
Floral Hall History
I named this quilt after the historic Floral Hall located on my local county fairgrounds.
This building has been around for 138 years and has survived two fires!
Every year for the last three years I have volunteered to help clean and set up for our local county fair. My kids always show animals they have raised and I enter a quilt or two for judging down in the floral hall.
They also accept antiques, preserves, baked goods, vegetables, crafts, and more. I adore the history of the Floral Hall and am so honored to recognize a quilt in its honor.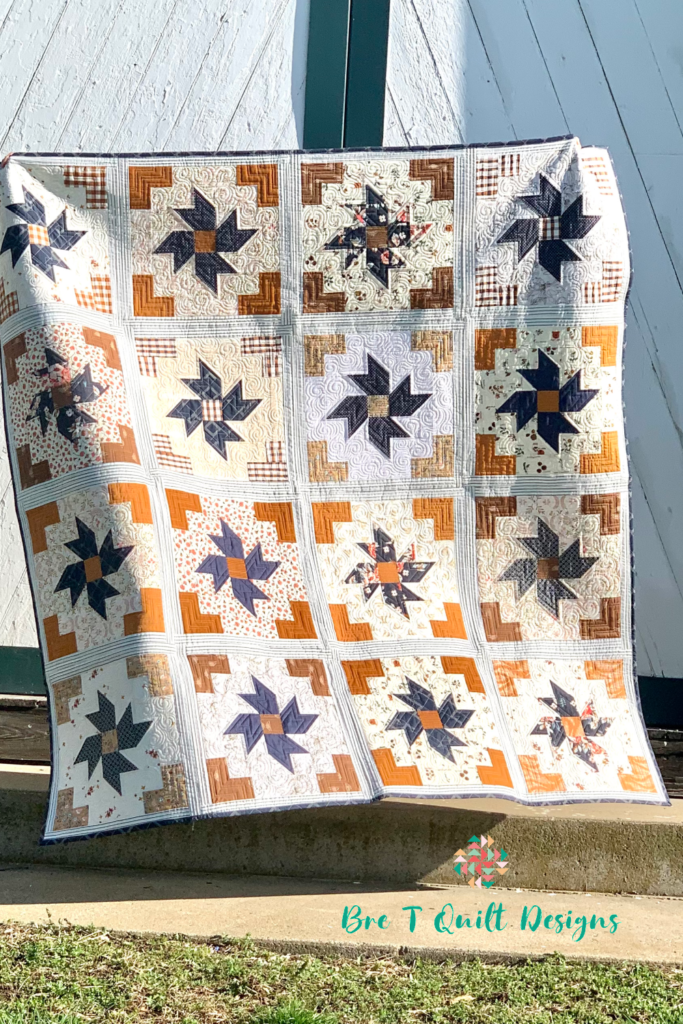 Floral Hall Quilt Pattern Release Date
The Floral Hall quilt pattern will be available for purchase May 4th.
It will be available in paper or pdf version.
You will find it listed in my pattern shop: www.bretquiltdesignsshop.com.
To be notified of its release and of future pattern releases sign up for my newsletter here.