I am so excited to show off my latest adorable farm quilt on the "My Heart Belongs To My Farmer" Fabric tour!
When Poppie Cotton reached out to me with their upcoming line, I instantly fell in love! If you've hung around here at all, you'll know that my family lives on a small farm so farm quilts tend to tug at my heartstrings.
Farm Fabric
This adorable fabric features little blue tractors, red barns, farm animals, strawberries, and florals. It is seriously the sweetest fabric line! If tractors and farm animals aren't your thing, you can easily leave out a few fabrics and still have the cutest fabric line. I think this one would also make the perfect Valentine's Day quilt!
If you haven't seen it yet you can grab a fat quarter bundle here.
Quilt Pattern
Because there were so many similar colors I thought this line would be adorable in my Rough Cut Diamonds Quilt Pattern, and it did not disappoint! I used a fat quarter bundle and made it scrappy using all of the whites as background colors and the pinks, blues, & reds as interior colors.
To see more of this pattern check out my other version, Flowers For Freya.
Quilt Sashing
For the sashing, I used a Moda Solid called Cameo. It was a great match that pulled in the darker pinks but really popped off the reds and blues. Poppie Cottons Country Confetti in Cotton Candy would have also worked wonderfully but I had a hard time getting my hands on it as soon as I needed it.
This farm quilt was just begging to be photographed with the old red International truck and our mow full of hay. It just felt right at home here on the farm.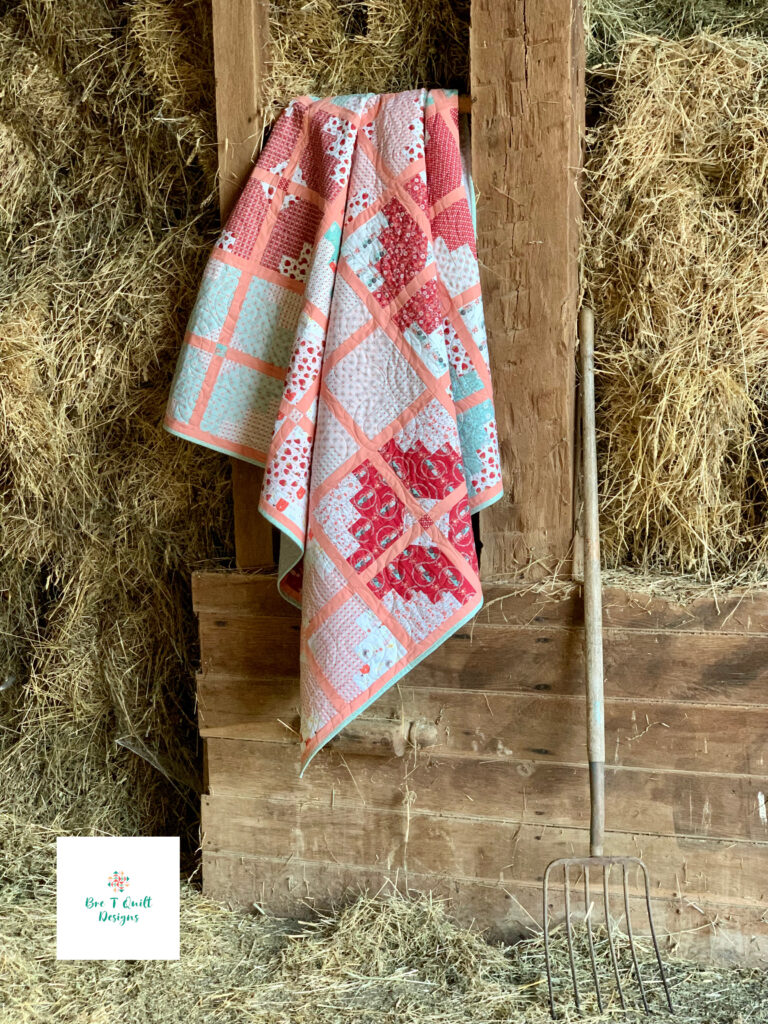 Farm Quilt
My one gripe about this quilt is that I was in such a hurry to get it off to the quilters, I didn't catch that I had flipped a row and ended up with two reds side by side. It was quilted before I caught it and now that's how it will stay. Regardless it's still an adorable cozy farm quilt that will fit right in here in our little farmhouse and done is better than perfect.
Fabric: My Heart Belongs To My Farmer- Poppie Cotton
Pattern: Rought Cut Diamonds
Quilting: Kelly Borns