I am so pumped to introduce you to my newest Clover Fields quilt pattern.
We are in prime hay-making season and the weather has been perfect for it! I just love it when the clover flowers out and those purple buds appear above the tall grass! This pattern reminds me so much of a clover field, hence the name! The center designs remind me of flowers and the four leaves that appear in the secondary pattern resembling the lucky four-leaf clover. Do you see it or maybe by this point my brain is half made up of hay!
This lovely pattern hits all of the marks. It is written to work with most precuts, it is perfect for beginning quilters or those looking for a quick project, and it's gorgeous! If you've been looking for an awesome pattern to help you work through your fabric stash, I've got you covered!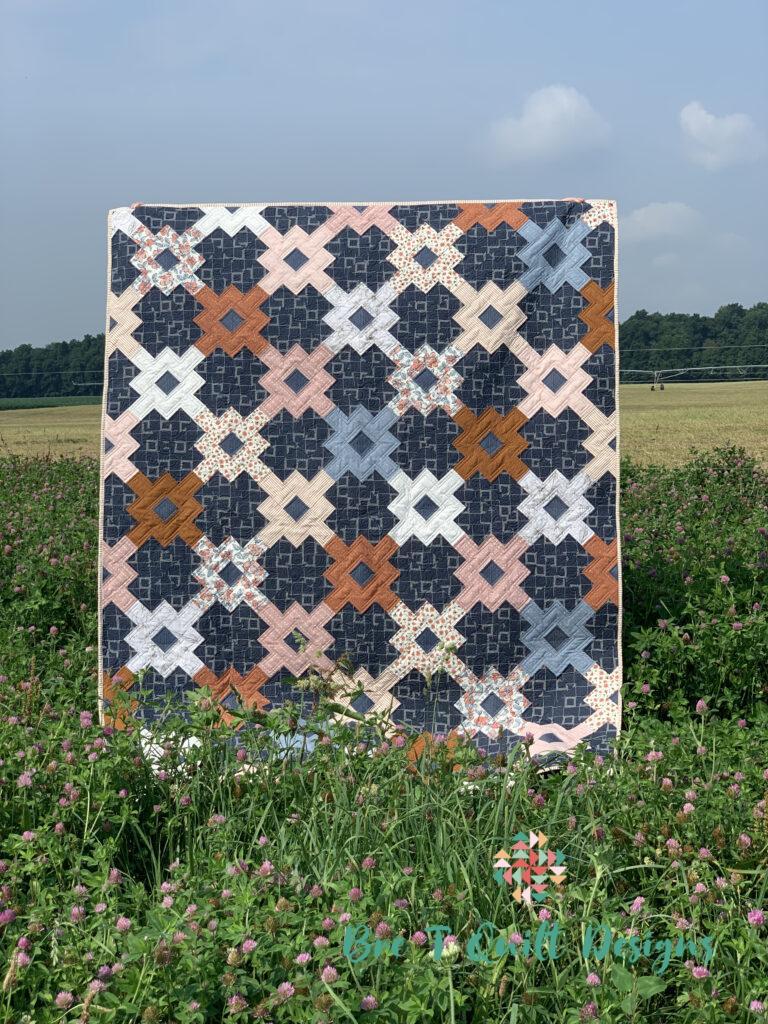 The Clover Fields quilt pattern is written for use with fat quarters, jelly rolls, layer cakes, and even scraps!
This particular version is made with a Demin Dreams fat quarter bundle and Indy Fold- Tartan Midnight yardage from Country Chrick Fabrics. You can find the fabric requirements below.
Material Requirements
The finished quilt will measure 57″ x 71″ which is the perfect throw-size to cuddle up on your couch with when the day is done.
The pattern is a really fast make. It could easily be a weekend project, perfect to make when you need something finished quickly, or a project for your next quilt retreat.
It is one of those patterns you'll find yourself making again and again! I know I have, I'm up to four versions of this quilt!
Clover Fields Quilt Backing
For this quilt, I chose to use Mammoth Flannel in Nutmeg for the backing. It is my absolute favorite! It is so warm and cozy. The colors matched this quilt top perfectly. It's almost as if they were made for each other!
I love using flannel as backing. I prefer my quilts soft and cozy and I found the kids tend to use them more when they have a soft backing.
The only special thing I do when I use a flannel backing is prewashing it. This is the only quilting fabric I prewash. Flannel tends to have a lot of shrinkages so prewashing your flannel fabric before using it as the backing is a great insurance policy that your quilt will last a lifetime.
The Clover Fields Quilt pattern is now available!
Keep In Touch!
You can do this by signing up for my newsletter, or following me on Instagram or Facebook.
Be sure to check out some of my other quilt patterns!
Rough Cut Diamonds Quilt Pattern