Say hello to my Adelyn Kay Quilt pattern..
The Adelyn Kay Quilt pattern  is a modern block based quilt pattern perfect for the confident beginner.  This particular version was made in the baby size and uses Lella Boutiques Nest line of fabric. In fact it was the quilt that inspired the name!
The Adelyn Kay Quilt pattern was written with three different sizes in mind.  The baby size features nine blocks with a finished size of 42″ x 42″.  The small throw size features 16 blocks with a finished size of 56″ x 56″.  Finally the large throw size features 25 blocks with a finished size of 70″ x 70″.  Each size comes with cutting and assembly instructions.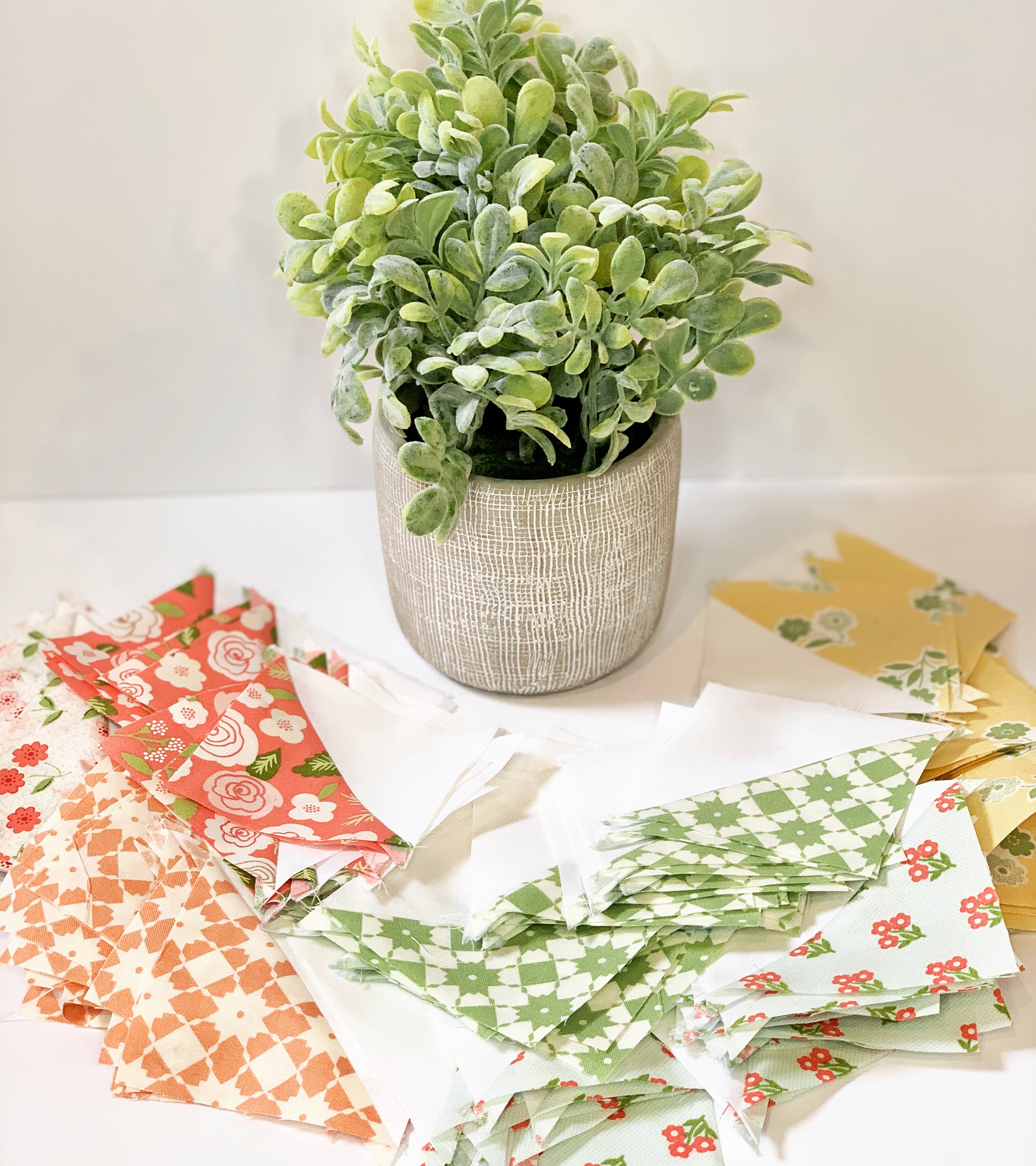 The wonderful thing about this pattern is it uses just simple half square triangles to create a block that looks complicated and intricate, but truly is very easy to assemble.  In fact I've included two different ways to assemble the blocks based on your preferences and feedback from my pattern testers.
Adelyn Kay Quilt Versions
Tester Parade
Along with multiple assembly options this pattern includes diagrams and methods such as the magic 8 and strip piecing to create quick work of all of those half square triangles this pattern requires.
I just think it is so important to add whatever I can to my patterns to help beginners learn techniques that will speed up their quilting process while also helping to maintain accuracy.  I hope to do that with this pattern by including instructions on how to use these methods to create this quilt.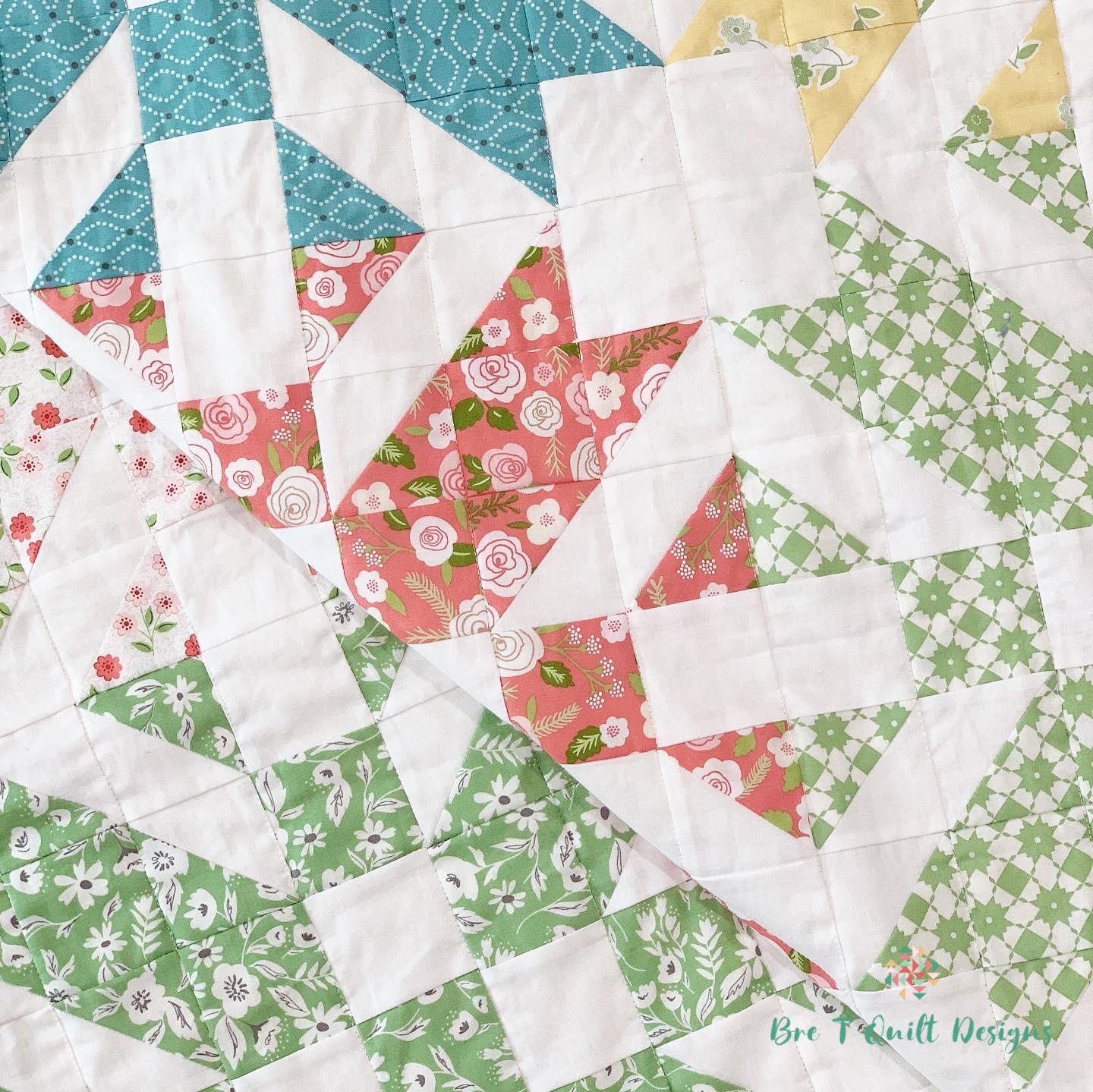 Name Sake
*Trigger warning- Baby Loss*
I had the hardest time maintaining pregnancies.  My oldest son made his appearance just shy of 35 weeks, and my youngest arrived at 30 weeks, but in between my boys was a little girl.
Her name was Adelyn Kay and we had to say goodbye the same day we said hello.  After my waters ruptured early we met Adelyn at just 20 weeks into the pregnancy on Thanksgiving morning.  We weren't expecting her until April 8th 2012.
Saying goodbye to a child really is one of the hardest things I hope you never have to do.  It's surreal that this year will mark ten years.  As the years have gone by and the pain has dulled to an ache.  I've struggled with how I could leave her a legacy.  As I was working on this quilt, a baby sized in spring colored fabrics, it came to me that this pattern could be her namesake.  It just felt right.
The thought of her name living on the labels of beautiful quilts around the world that would outlive me just felt so right.  And as I saw it for the first time on a friends tester quilt label, my heart swelled with joy. This was it.
In addition 20% of all sales of this pattern will forever be donated to a local organization called, "A Walk To Remember, Fort Wayne."  It's a organization local to me that supplies memory boxes to mothers of baby loss.  Among other things, my box contained a hand sewn dress small enough to fit Adelyn, it was so special.
You can find this Adelyn Kay Quilt Pattern in my
Quilt Finished: January 2021
Quilt Pattern: Adelyn Kay Quilt By Bre Tuttle
Fabric: Nest By Lella Boutique
Quilted By: Me