I am so excited to show off "The Picnic Quilt". My newest quilt pattern is showcased on the Hopscotch & Freckles Fabric Tour hosted by Poppie Cotton Fabrics.
When I first saw this adorable fabric I immediately knew it was time to write up a pattern for our family's favorite picnic quilt and make it available to you! Doesn't this fabric just scream sunny days and children playing?!
The Picnic Quilt Origin Story
I made up our very first picnic quilt when I first started on my quilting journey. I used my two favorite blocks, sawtooth stars and nine-patch blocks. We keep it in the car and any time we are doing an activity with the kids that requires sitting on the grass I pull out this quilt and the kids love pushing their cars across it, eating a quick snack, or taking a rest on it. It has seen parades, 4-h meetings, sports games, and more! It is my most used and well-loved quilt!
I am so excited to make it available to you!
Pattern
The Picnic Quilt is the perfect stash-busting pattern! It takes 21 fat quarters and 1.5 yds of a coordinating solid. The great thing is you can easily make a scrappy pull from your fabric stash and it will look great in this pattern!
The Picnic Quilt is a great pattern for beginning quilters. It is easy to follow along and teaches you the foundations for these two simple blocks, that make a stunning effect. It's also great for more advanced quilters looking for a quick project that works through their stash! I know I am always on the hunt for a great stash-busting project!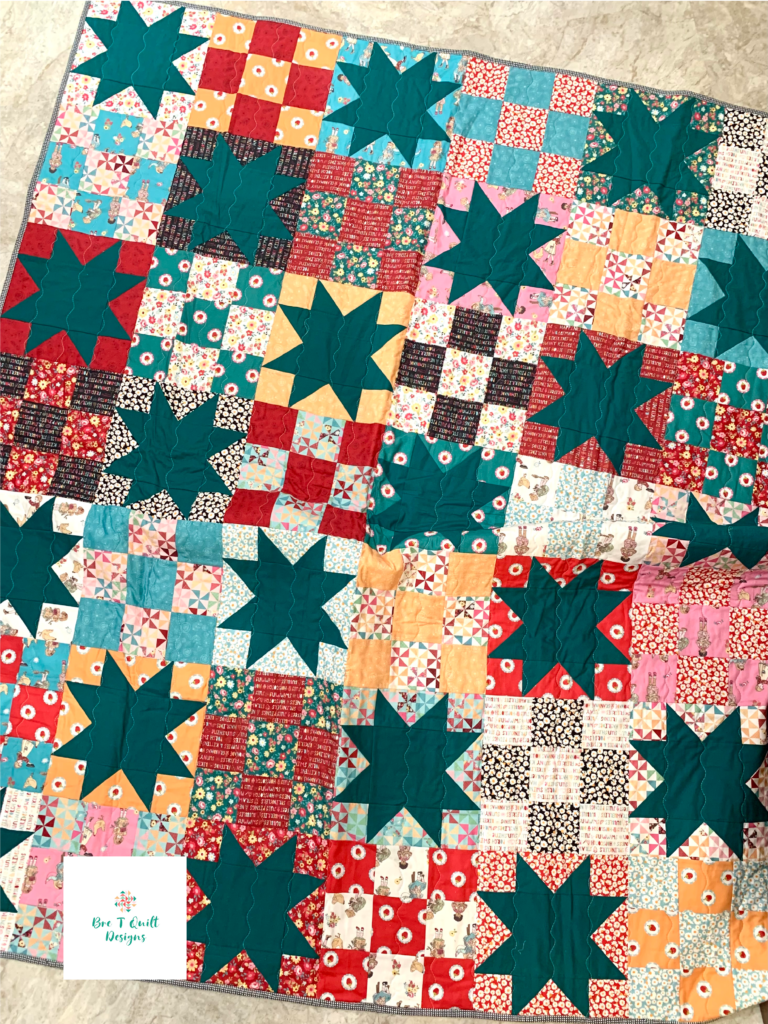 Backing
In the spirit of not adding to my scrap bins, I wanted to use up every bit of this fabric so I used the scraps to make up this adorable scrappy backing. The more I thought about this the more I decided more could be done with this, so The Picnic Quilt pattern also includes a bonus crib-sized pattern using every bit of the remaining scraps! That means two great patterns for the price of one!
Quilting
It's not very often that I quilt a quilt myself. Over time I have grown to enjoy it on smaller projects. After quilting this one I decided I should leave the larger projects to the professionals haha! I used the wavy stitch on my machine and turned the width and length up which increased the size of the wave. I love using this stitch to quilt because it is so forgiving!
If you are going to go this route, be sure to use a walking foot and I highly recommend spray basting as it seems to keep a better hold on the quilt sandwich.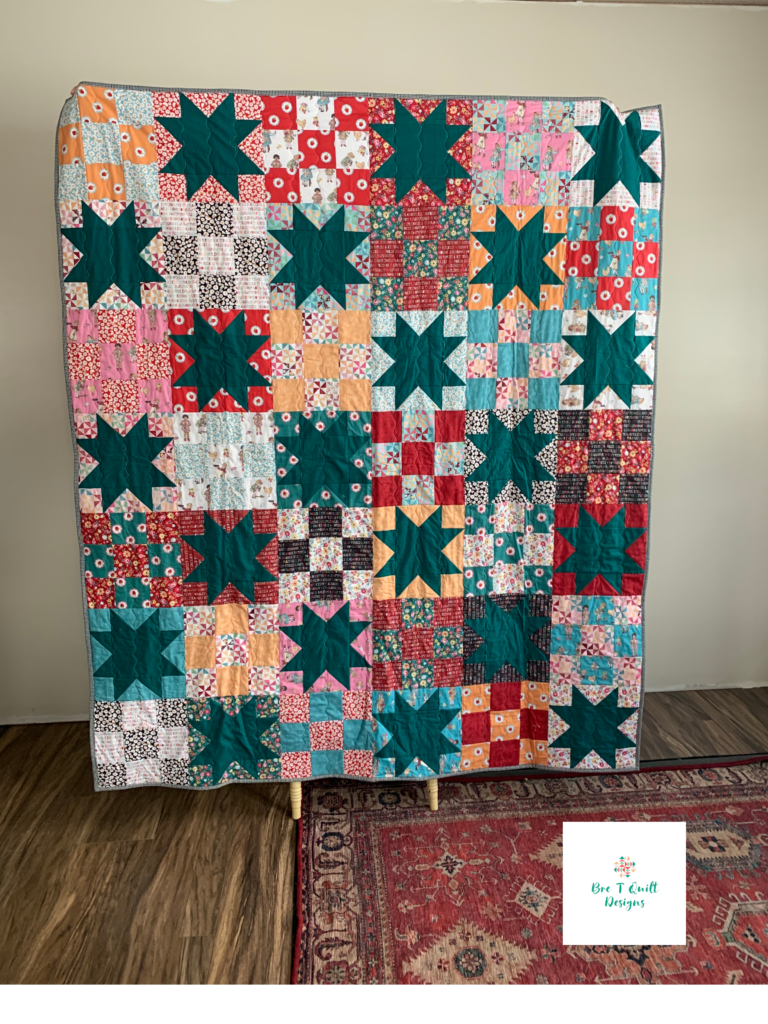 The Picnic Quilt
The picnic quilt pattern will be available on March 9th, 2022!
Keep an eye on my Instagram as I share three more versions of this quilt this week!
In the meantime, you can find this Hopscotch & Freckles fabric on Etsy to make your very own Poppie Cotton version of The Picnic Quilt!