Hello! Meet this ombre lucky log cabins quilt.
Is there anything better then a quick together quilt and a lovely jelly roll in ombre rainbow fabric??
There really isn't!
Emily Dennis over at Quilty Love recently released a new stash buster pattern called Lucky Log Cabins. 
She hosted a quilt along and I was so excited to join in after seeing her version in ombre fabrics.  I happened to have this jelly roll of Ombre Blooms by V & Co hanging around and knew it would be perfect!
Ombre is seriously an awesome choice for this pattern!  You can find more ombre choices here! V & Co is constantly coming out with ombre more lines, each one better then the last!
I spent some time upfront arranging my strips into similar color groups and started chain sewing them together.  This went so fast! It was a great after kids bedtime project.  I think it took me an hour to piece the strips together.
Piecing
Next they were ironed out and cut into blocks!  Aren't they just beautiful!!
The great thing with ombre fabrics is they pretty much go together no matter what.  I played around with them on my design wall for a while before settling on a placement.  I gave it an overall ombre effect, one color set trickling into the next.
Here is a photos of my finished top.  I have it hanging on the back of the old door in my laundry room. It recently got a fresh coat of paint and is there perfect backdrop for colorful quilt tops!
I just can't get enough of this quilt!
Basting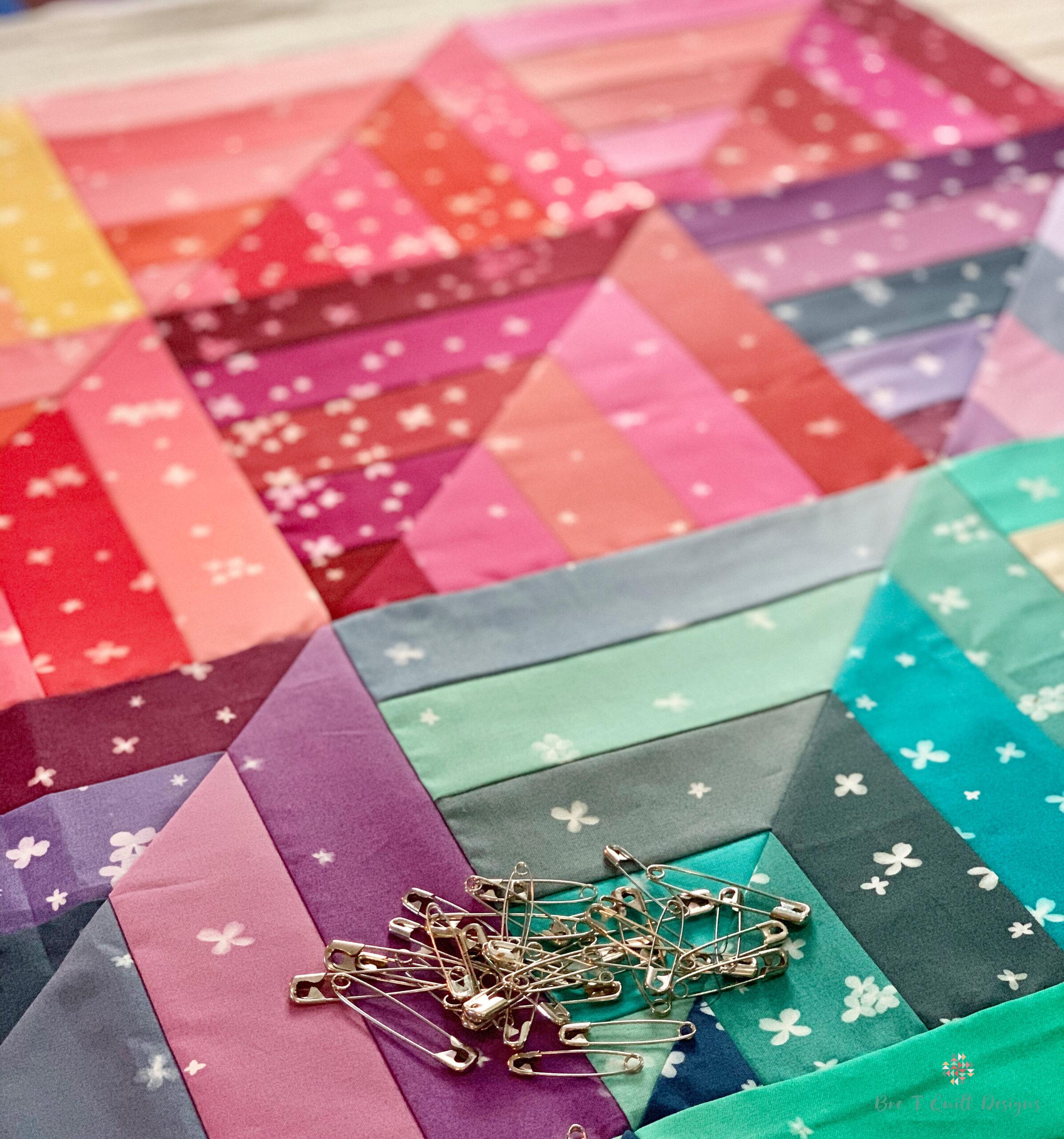 This small throw size quilt is made from one jelly roll.  I decided because it was so small I could quilt it myself. Anything over 60″ usually gets sent off to my favorite long armer!
I used a purple dot print from Wilmington Prints I picked up at my local fabric ship and sandwiched this top with a layer of 80/20 Hobbs Heirloom batting.
Quilting
I went with a straight-line quilting on the diagonal.  Using my trusty walking foot of course! It went pretty fast and I was not disappointed!
I used left over backing fabric to bind the quilt.  To attach the binding I stitched on the front, flipped the binding over, then stitched down the ditch on the front to tack down the back.  It was the first time I used this technique and I was pretty happy with it!
I've since learned to bind by hand and am not sure I will ever be able to machine bind a quilt again.  It creates such a beautiful finish!
Lucky Log Cabins Quilt Reveal
All in all I absolutely LOVED this pattern!
So much that I even made a second version you can check out here!
It is not only a great stash buster but is a quick quilt top to piece together.  It's something I keep in my arsenal when I need a quick gift quilt!
I highly recommend Lucky Log Cabins quilt pattern  by Emily Dennis!
Quilt Finished: 12/22/2020
Pattern: Lucky Log Cabins By Emily Dennis
Fabric: Ombre Blooms by V&Co
Quilted By: Me!