I loved my first Lucky Log Cabins quilt so much I decided to make a second one.  It's a easy beginner pattern by Emily Dennis over at Quilty Love.  If your looking for a quilt that comes together quickly this is the pattern for you.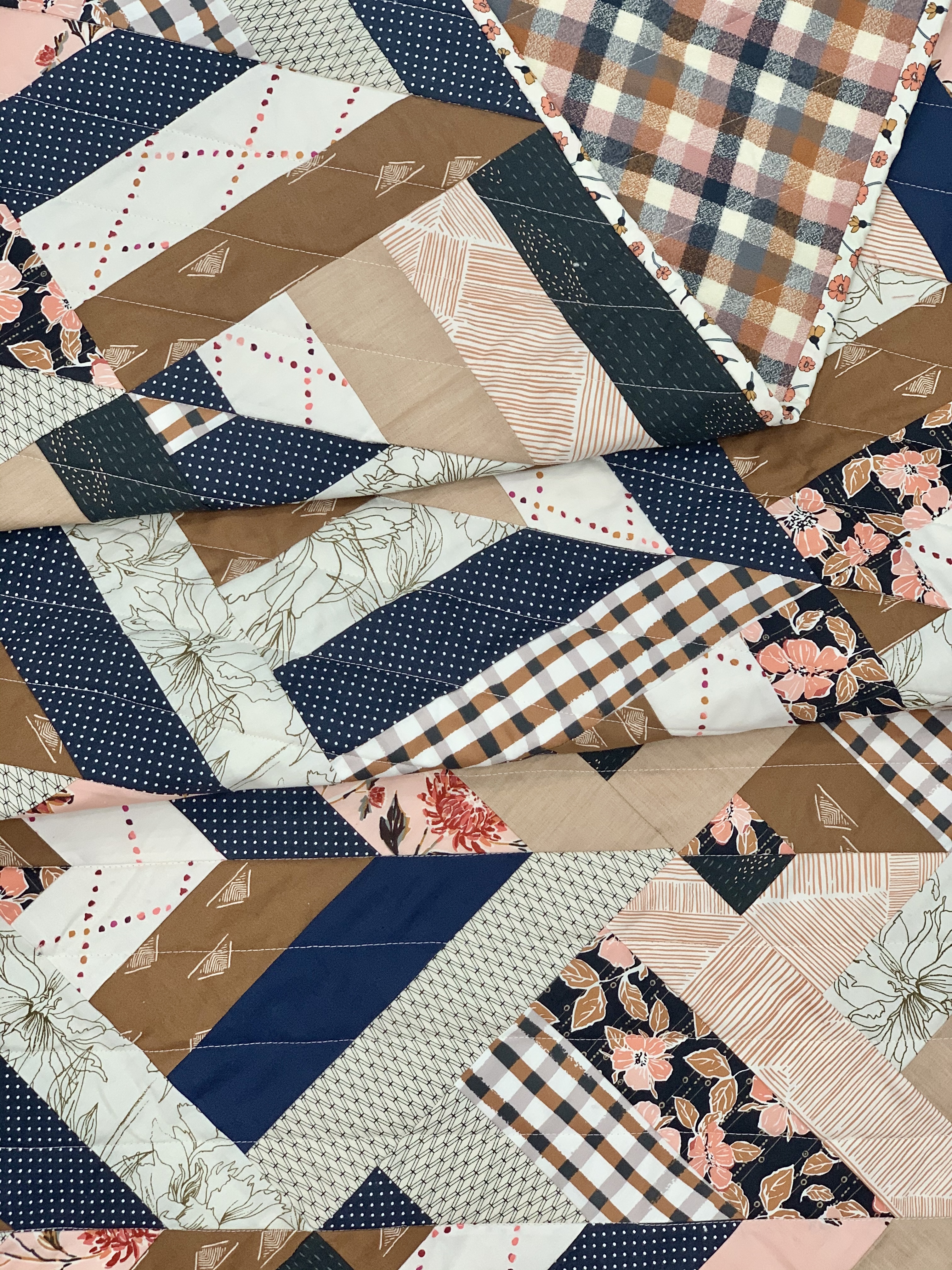 I used a lovely curated bundle of fabrics from The Country Chicks fabric shop on Etsy, with a very specific friend in mind.
You See, way back in November on an unusually warm weekend, my husband and I had the bright idea to remodel our kitchen.  Our kitchen was straight out of the 50's but in all the worst ways.  So we started gutting it.  When that was cleared out we decided we might as well do the adjoining bathroom and mudroom too.
We didn't exactly think it all through.  At about the point you could stand in the crawlspace and see up to the rafters.  I started thinking ahead about cabinets.  We live in Amish country so there is an abundance of local cabinets shops and each had the same story for me.  "We're out until April."
It was at this point I began panicking. One of our good friends works at a cabinet shop and originally had the same time frame but offered to help me come up with some designs so when I did find a shop we wanted to work with we'd have the big details decided on.  At some point during this her schedule had an opening and she offered us a date in March so we jumped on it.
By some miracle she was able to push our date up again into February.  I swear she is an angel.  She was slammed but would take time out of her weekend to come over with samples and answer questions we had as we were putting the rooms back together.
All this to say, as a thank you, I wanted to make her the perfect quilt for her family to snuggle under.
Fabric Pull
When I saw this fabric bundle I knew this was the perfect color combination for them.
She named the bundle Abigail and I added the two navy blues from her shop. Country Chick Fabrics was just the sweetest to work with!
Quilting
This Lucky Log Cabins quilt pattern goes together so quickly!  With some fast strip piecing these blocks come together in no time. Seriously!
This is also an easy pattern to quilt yourself on your domestic machine. I usually send my quilts out to a long armer, but since this pattern looks great with a straight stitch on the diagonal it's a quilt I'm happy to quilt myself.
Binding
I was toying around with what to bind this quilt in, originally I thought since it is so busy a solid navy would look great and pull it all together but I ended up using the small floral print from the Homebody fabric line and I am just smitten with it! The little flowers are so sweet.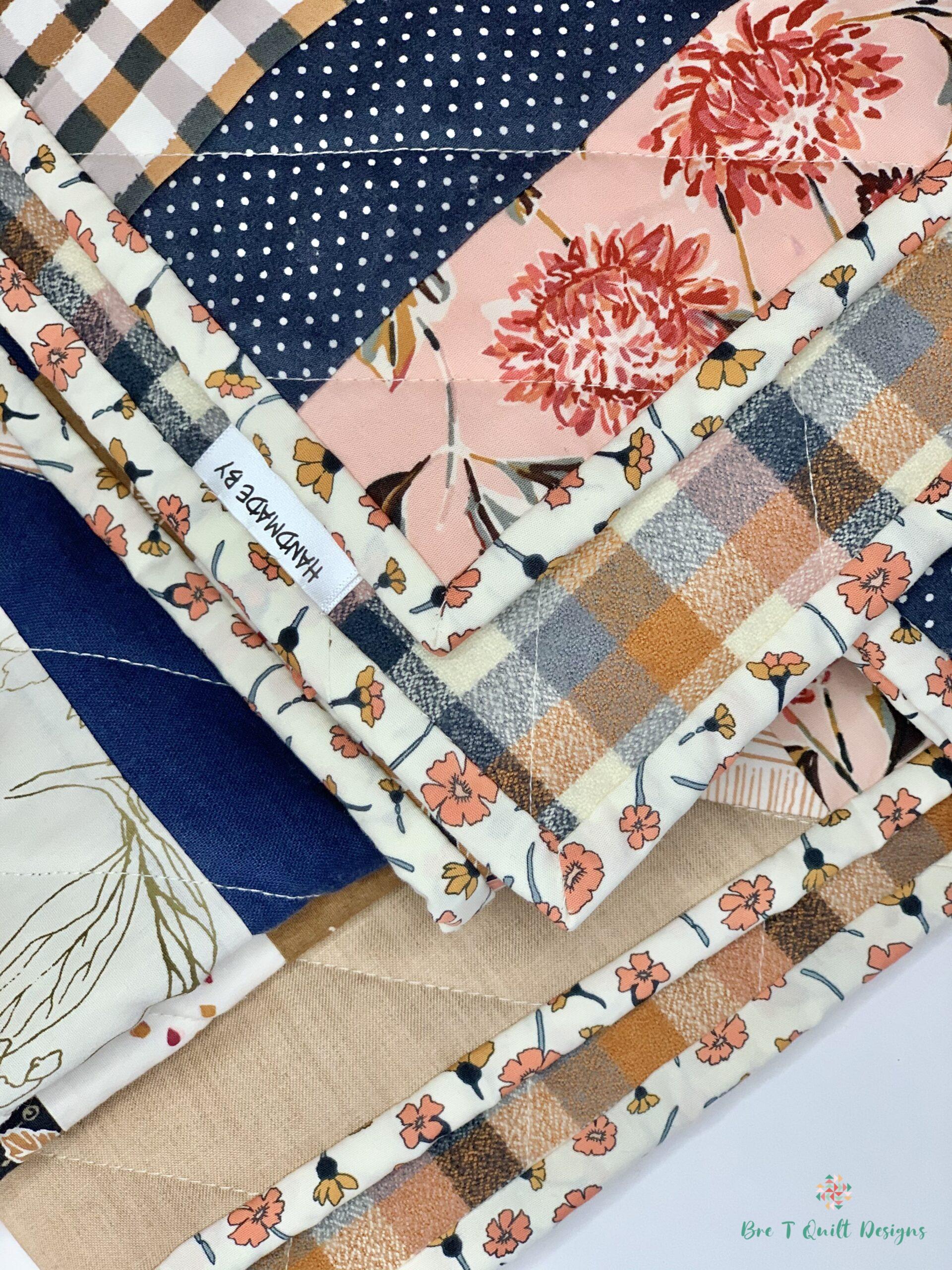 Backing
The backing fabric is a Robert Kauffman's mammoth flannel in Nutmeg and it is seriously delicious. I've ordered more of this and fully plan on backing more quilts with it.  It is a pretty thick flannel, it washes so nicely and is soft and cuddly.  If you haven't tried this as a backing you should!
Lucky Log Cabins Quilt Reveal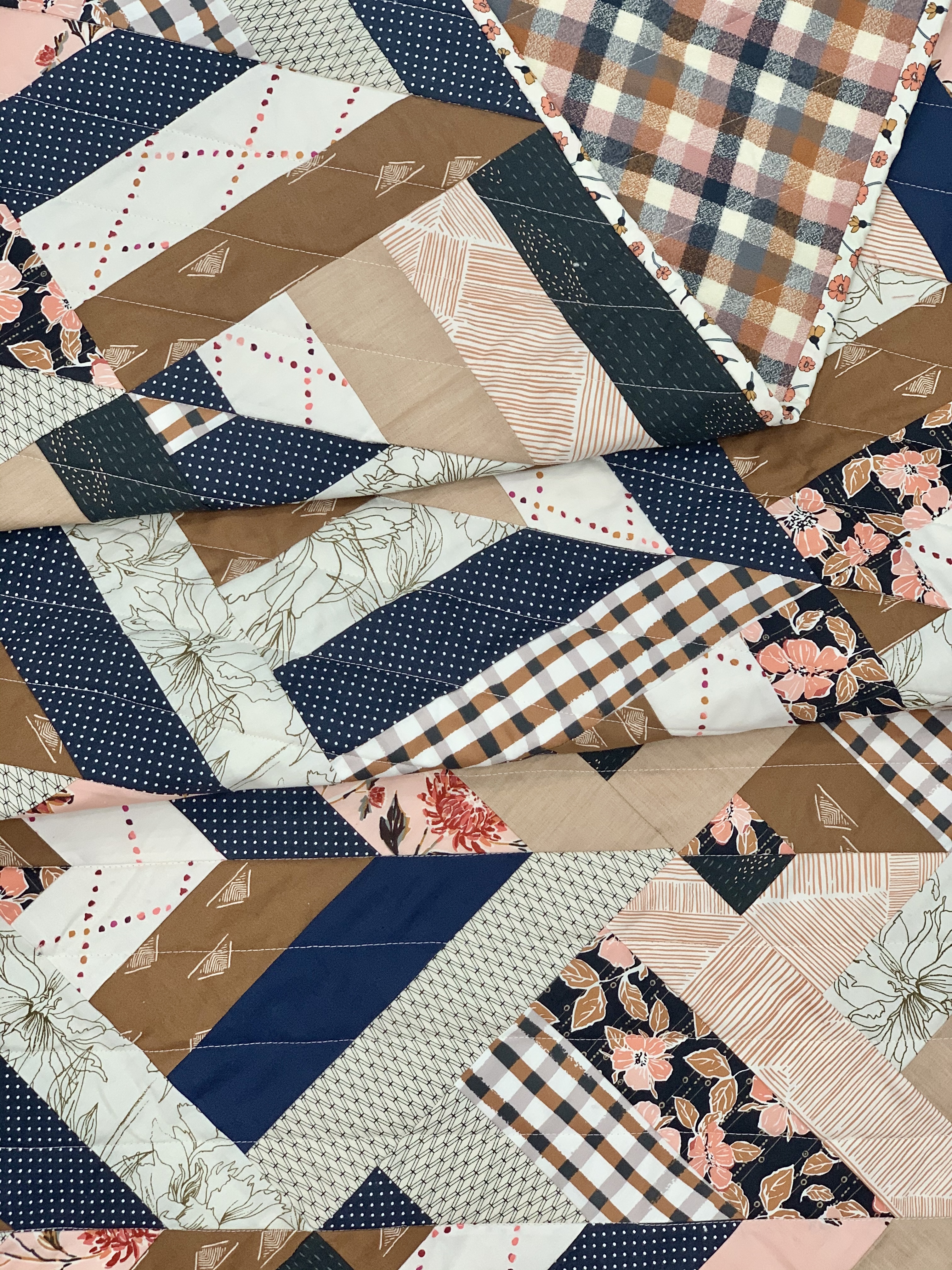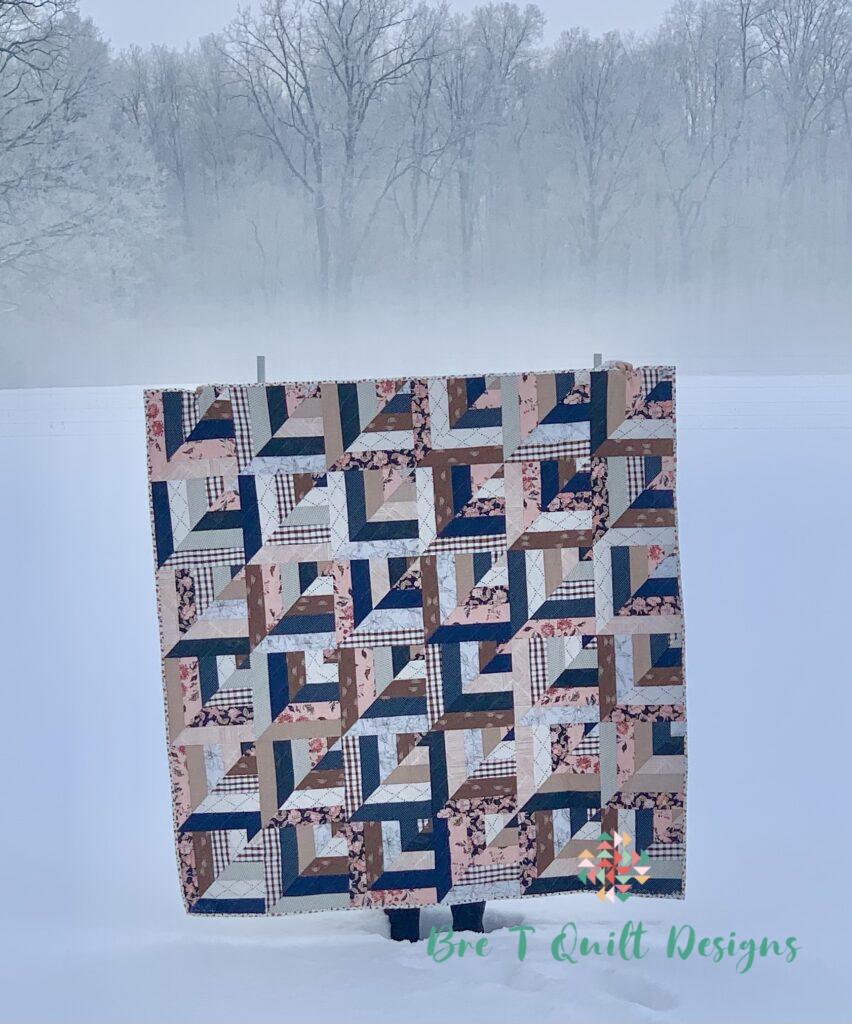 I really can't get enough of this quilt.  It is absolutely gorgeous!!  I can't wait to gift it to our lovely friend, I hope it brings her family as much joy as they have brought us.
Quilt Finished: February 10th 2021
Quilt Pattern: Lucky Log Cabins By Emily Dennis
Fabric: Art Gallery Currated Bundle by Country Chick Fabrics
Quilted By: Me!